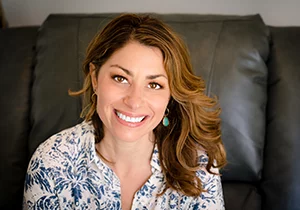 Meredith Osetek, C.Ht.
Certified Hypnotherapist
I welcome you to join me on a journey of exploration into the natural healing properties of your mind, body, and spirit. If you're looking for self-improvement, increased self-love, self-worth, and/or a healthier, happier, fulfilled life path, you've come to the right place! Therapeutic hypnosis, imagery, and mindfulness can help you comfortably and efficiently achieve your goals and your desired state of being.
Perhaps like you, I found myself on a constant search for solutions to finally overcome the barriers that were consistently getting in the way of my happiness, and ultimately, my dreams. After years of searching, countless self-help podcasts and books, spending hours (and thousands of dollars), on counseling, coaching, and therapy, I finally found a modality that offered the relief and answers I had been seeking.
In my personal hypnotherapy treatment, I experienced spiritual, psychological, and personal breakthroughs unlike anything else I had tried. It was hypnotherapy that helped me to finally move past trauma, anxiety, and limiting beliefs. I discovered and accessed the powers within my own mind- my subconscious mind- offering me the ability and confidence needed to transform my life. From achieving personal goals, to finally being freed from destructive, self-sabotaging thoughts and habits, I became the person I always hoped to be. This person was here the whole time. Hypnotherapy helped me bring her to the surface so she could finally shine.
Hypnotherapy was the missing link. It delivered an organic, rapid, yet comfortable path to the life goals and purpose I was seeking. At Hypnosis Motivation Institute's Nationally Accredited College of Hypnotherapy, I received world-class training and experience, therapy methods and tools, that I now use to guide people through their own personal transformation.
Why choose M.O. Hypnosis? Because not only will you work with an exceptional hypnotherapist, but I also bring with me two decades of experience coaching and counseling others during some of their most private, emotional, and meaningful times in their lives. I have had years of success motivating and inspiring others to reach deep within and carry out the changes they desire. With great compassion and empathy, I understand the intricacies of the human experience- complicated and not always easy but there's hope! You DO have the power within to make changes in your life! It would be my honor to facilitate your path to self-actualization.
Please request a free consultation to ask questions and discuss our partnership in your success.